Drupal Give
We are committed to giving back to the Community
Contributions
Events
Venue:
To be updated soon...
Testimonial
"

Our goal was simple: if we are going to be competing against the best, then we need to show that our product is more innovative and represents a higher value proposition than the rest. Guys you did it, and did it well.

"

"

I feel very positive about our relationship with UniMity. Their staff is very knowledgeable and professional.

"

"

"Over the last few years this team has been our partner in several of our information systems initiatives. Notable among them was the recent B2E application that they had built for us to manage all employee expense claims through the lifecycle of submission, approval, payment and related advice. This was developed with seamless integration to our backend Oracle Financials, corporate intranet and email system. The new system contributed directly in reducing the turnaround time of settlement of claims from several months to one week. A major spin-off was the consequent employee satisfaction since the employees were updated on the status of their claims, at all times.
We have always found the quality of their work and customer service to be top-notch. We will continue to use their expertise in future and will also have no hesitation in recommending them.

"

"

This is a professional company that has a really nice set of people who have stepped up to the plate in terms of satisfying customer needs and meeting tight deadlines across all our technology and e-learning needs. I have personally been very comfortable in dealing with JK and his team.

"
Showcase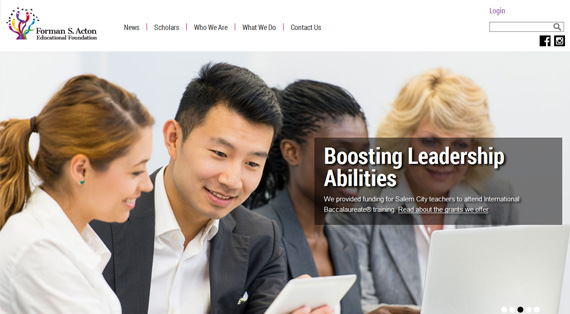 Forman S. Acton
The Forman S. Acton Educational Foundation was established in October 2014. The Foundation's mission is to leverage available resources to ensure all children living in the Salem City School District achieve high academic standards, college and career ready, become engaged community members and responsible global citizens.
The project involved creating visual brand identity and building a contemporary, sophisticated website as the digital face of the Foundation communicating their goals. The portal introduced an online system to help student register for grants and scholarships.