We are excited to launch a 30 minute Webinar series on November 18 on the eve of first birthday of Drupal 8. This webinar series is exclusively on Drupal 8, called "Dwell in Drupal 8". The objective of this series is to share the Drupal 8 learnings through Video Live sessions. The Speakers will be any Drupal Developer who wishes to share their experiences through our Platform.
These sessions will require sign up and we will announce them 10 days in Advance. We are planning to end the session with a Live Q&A. Sign Up now!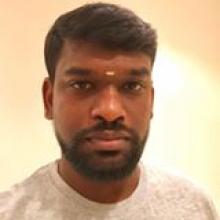 About Speaker:
Vijay Chandran Mani works as Senior Drupal Developer for Solathat Limited. He is a passionate Drupal Developer and one of the oldest members of Chennai Drupal community. He is working on Drupal for the past 10 years. He is credited on 21 issues for past one year and 295 commits. He is the maintainer of Configuration Translation module in Drupal 8 core and co-maintainer of Configuration Translation (Drupal 8 core), Date, Configuration Inspector, EntityFieldQuery Views Backend and more. He also authored modules like Client cache, Commerce Order Cleanup, HTTPS Node, Inline JS (Drupal 8) and many more..
Apart from his code contributions, Vijay is also an active participant in Drupal community events and forums. He was the Winner of Trivia Night, DrupalCon 2013, Prague - Team "CREATE TABLE;" and also bagged 4th place at Trivia Night, DrupalCon 2015, Barcelona - Team "TABLE ALREADY EXIST". Many of us are already familiar with his fascinating story "How Drupal Changed my life" featured in Dries Keynote @DrupalCon Dublin.
About Topic:
Advanced
Microservice is one of the latest trending application architecture. This session talks about -
What is microservice?
Typical use cases for microservice.
Introduction to enterprise/large scale Drupal.
Problems with deployment/release of a Drupal site.
How to implement microservice architecture in Drupal 8.
Sample implementation (with Github, CircleCI and Github page)