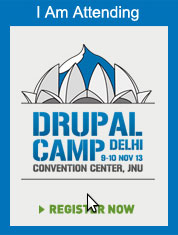 Attending Drupal Camp Delhi pretty excited about being be a part of Drupal enthusiasts from across India. Organising a camp is a LOT of effort and three cheers to Rahul from Srijan for organising the same meticulously for the third year in a row.
I am very excited by the extent of participation. Checkout the full list of session submissions,. The total count of submissions include 26! Topics range from Learning Drupal, Security, Drush, Mobile drupal, Best practices, Memcache and more. IT was a hard time for the selectors to narrow down on the session list.
We are having a Drupal 8 Core Code Sprint on the later half of Saturday and half of Sunday. Our Prided Drupal core contributor, Vijay, Typo3 module maintainer Ishan, Quiz module maintainer Sivaji from KnackForge and myself are organizing the sprints.
Everyone is welcome to join this sprint! If you have built a site in Drupal, you can contribute. We will split into pairs and work on Drupal core issues. Bring your laptop. If possible, install git before coming and git clone Drupal 8 core.
For new folks: you can get a head start also by making an account on Drupal.org and taking a look at the Drupal Ladder http://drupalladder.org/
Remember your laptop! Connect with the mentors if you need support installing git & downloading Drupal 8 prior to the event.
Some of the areas we will be cover include:
Drupal 8 QA pertaining to Mobile Initiative, Drupal 8 QA, D8 Configuration Management, Drupal documentation