Drupal Camp Delhi was an extra special experience, my first Drupal Keynote ever, in front of my favorite audience, Young Indian Drupalers! 
The Current state of Drupal, knowing the nature of the young audience at Delhi and wanted to keynote on "Global Opportunities". Presented the state of Drupal today - where Drupal is today, key recent Enterprise adoptions, the highlights of working with Open Source and hence the "Global Opportunities".
I started with using Drupal 4.x – our first implementation was a Drupal Moodle integration. It has been a long journey from then to today's Drupal 8.0. Mapping this journey of Drupal to where Drupal stands today, the key highlights are:
Drupal Today is much Larger Community
Drupal Today is Growing ecosystem – from a bunch of Developers now we have Businesses, ISPvs, User and Developers around the world
Drupal evolved to be a mature Open Source Solution
Drupal has stayed relevant throughout its journey
Stats show Drupal's increased adoption
Drupal in India is growing not only in number but also in terms of contributions
Larger Community
1. We have 104,306 users, actively contributing and 1,545 commits just in one week!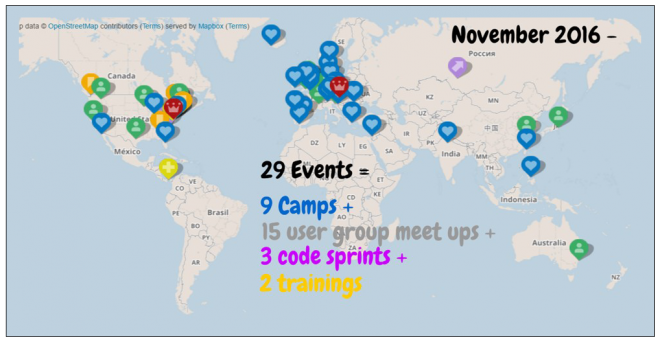 2. Just in November 2016 we have 29 Drupal Events: 
9 Camps
15 user group meet ups
3 code sprints and
2 trainings!
3. Mind you this only includes events that are registered in Druplical.
4. On Nov 11 -12 there were 4 Drupal camps happening simultaneously across the globe!
Growing Ecosystem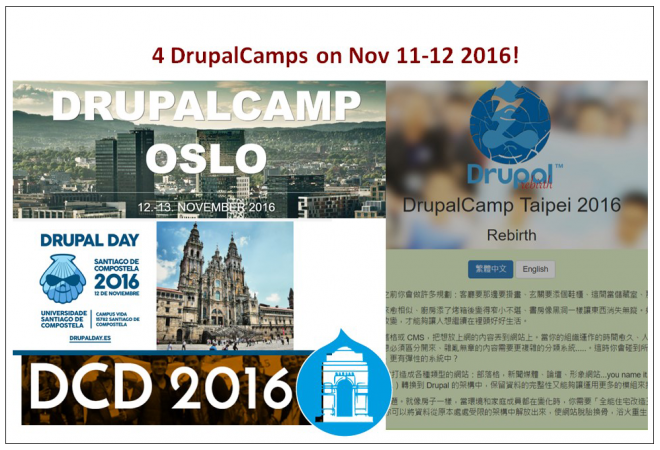 1. Started with a bunch of developers, moved on to add and get businesses to participate. Companies like Srijan and Axelerant have been conducting Drupal Camps and actively supporting Drupal initiatives.
2. Today the end user organizations like Pfizer, Johnson & Johnson – many large enterprises are part of this community.
3. The most recent additions are the ISVs – Independent Software Vendors – like fastly, mailchimp and other who are also part of our Ecosystem.
4. Our Developer community has also been growing, across the globe, across technologies, inclusive of UI, PM, and other non code contributors as well.
A Mature Open Source Solution
1. Some of the areas that Drupal has learnt and evolved is to come up with a method to facilitate "The transformation of Drupal through continuous innovation"
This blog by Dries demonstrates how Drupal 8 has made a key difference.
"Big architectural changes are easier"
"Short release cycles"
"Less expensive upgrade path"
"More incentive for core contributors by moving the code to production through shorter cycles"
2. The three new practices in Drupal 8 that help facilitate these changes include:
a. Semantic versioning: a major.minor.patch versioning scheme that allows us to add significant, backwards-compatible improvements in minor releases like Drupal 8.1.0 and 8.2.0.
b. Scheduled releases: new minor releases are timed twice a year for predictability. To ensure quality, each of these minor releases gets its own beta releases and release candidates with strict guidelines on allowed changes.
c. Experimental modules in core: optional alpha-stability modules shipped with the core package, which allow us to distribute new functionality, gather feedback, and iterate faster on the modules' planned path to stability.
Stayed Relevant
1. Drupal 8 shipped with Easier Content Authoring with Wysiwyg in core, Drupal 8.2 brought with it the settings tray, and easier to use block placement with it.
2. Supporting APIs in core helps increase support for device agnostic solutions, headless Drupal, Integrate with bot technologies, IOT and more…
3. Internationalization in core
4. A Digital solution is not complete without Analytics, Targeting Emails, Marketing Automation and a host of other services. Drupal can integrate with these with ease.
Increased Adoption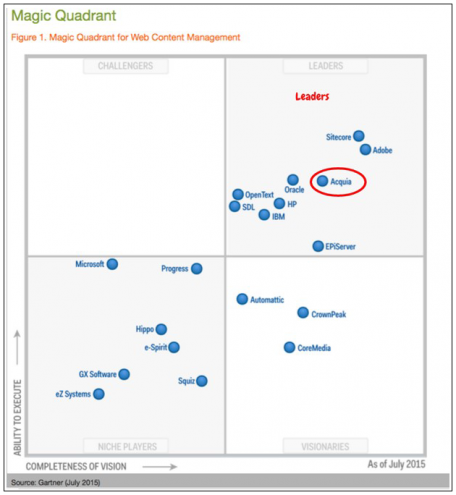 Source: Gartner 2015
1. Last 4 years no of sites grown by 50%
2. 1 million + sites running using Drupal
3. Gartner just released the 2015 version of its Magic Quadrant for Web Content Management. For the second year in a row, Acquia was identified as a Leader.
Drupal in India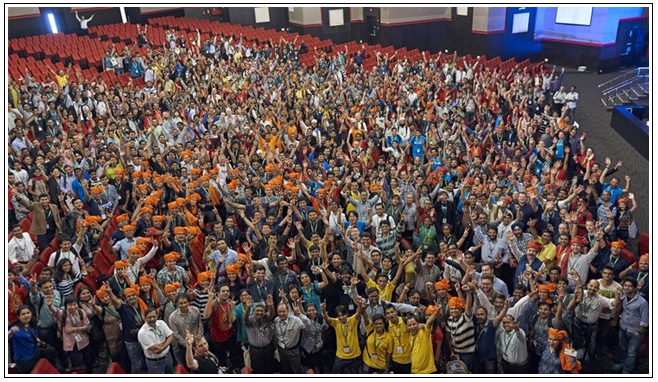 1. India has the youth, we have talent, we have innovation – right time for us to capitalize on the global opportunities.
2. India is the 2nd most contributing country to Drupal 8 code
3. Indian companies are at the top of the market place because of their contributions
4. Increased momentum further to DrupalCon Mumbai
5. Dries himself is extremely proud of the campus ambassador program. The conversations I have had with him has also demonstrated his excitement to see the growth of Drupal in India.
Drupal Today is a much Larger Community with a Growing ecosystem, Evolved to be a mature Open Source Solution. All through this journey Drupal has stayed relevant, flexible & innovative. It's amazing to see Drupal's increased adoption in the Enterprise space. Drupal in India is growing not only in no but also in terms of contributions!