Coupled with increasing literacy rate publishing industry in India has seen tremendous growth in the past decade. Contradicting the global trend, in India the Newspaper industry has seen 8% growth last year. Most of this growth is driven by vernacular newspapers. It is expected that in the next decade regional newspapers grow at a rate of 12-14% as primary source of information. Although there is an increase in the adoption of digital books, digital news is yet to be accepted by Indians.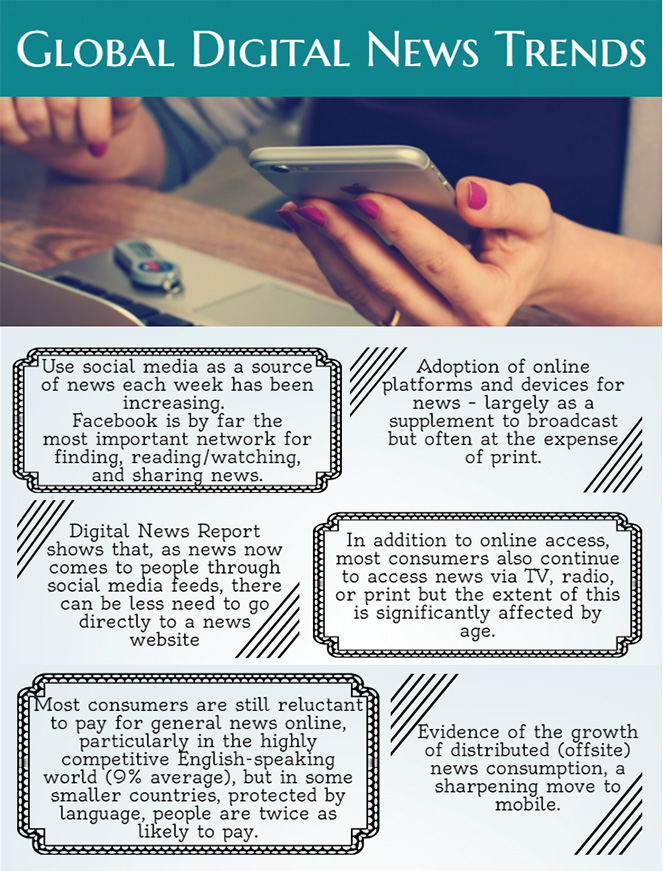 Disclaimer: All the above information is taken from the report on Digital News Report 2016 by "The Reuters Institute for the Study of Journalism".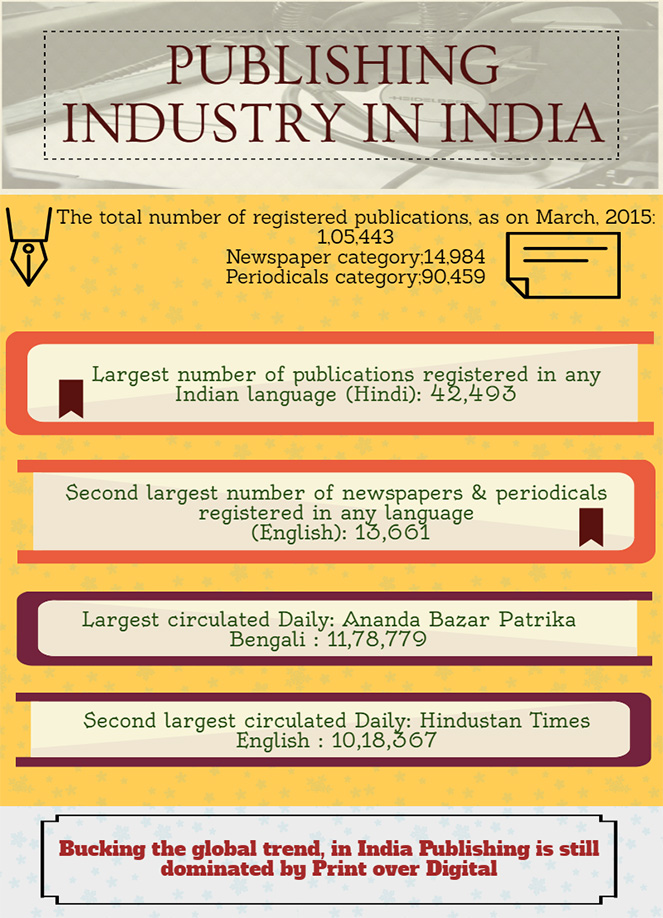 Disclaimer: All the above information is taken from Govt. of India RNI website 
Although the above information is overwhelming for digital publishers, we have to consider some facts to understand the future changes in the landscape of Indian Newspaper & Magazine industry. A few developments could be game changers to turn print dominated publishing to digital. 
With missing desktop generation, India is witnessing evolving smart phone generation. 
India is the world's second largest internet market. 
Print media is consumed mostly in semi-urban and rural areas. Urban population, especially millennials are adopting digital news at skyrocketing pace.
Initiatives like "Digital India" by government is acting as catalyst to growth of digital publishing in India.
The ability of digital media to engage audience and freedom to express their opinions on a particular topic. Digital media is always a two way communication.
 Increased velocity of news generation and consumption.
Click on this link for statistical references of growing internet, broadband & mobile usage in India from "The Hoot" company.
 
Comprehending all the above information it is inevitable that Newspaper & Magazine industry has to re-invent themselves in order to cater to future generations with quality content as driving force. But "Print is dollars, digital is dimes and mobile is pennies" still holds true for most organizations especially in India.
 So how can publishing companies keep ahead of the game with digital publishing at "introductory" stage of life cycle?
"For Media companies 'Time is money'. Once they grab the time of users they can monetize it in future" says Azar Iqbal, founder of Inshorts.
In the mean while organizations has to sustain and build strong foundation to emerge as winners in cut throat competition. Especially in media, an industry where brand and customer loyalty are key factors for success of organizations,
How can publishing companies generate revenue in sustainable ways?
Diversifying revenue streams has been an innovative strategy for organizations to achieve profits and continuous growth.
The different strategies for Revenue Streams include:
A.    Paid content access Revenue/ Paywall
B.    Advertisement Revenue
C.    Services/ Classifieds
D.    E-Commerce
A. Paid content access Revenue/ Paywall
Paywall functionality should allow monetization of the online content. 
Depending on the Paywall rules defined, the following types of access is possible:
Access Type  

 

Rule

 

 Comments

 

 

Free Access

 

 

No restriction. Full access to the article

 

 

Access by Registration 

 

Teaser / first few paras access is free. Registration required for full access. No payment required

 

 

If the reader is a registered reader / subscriber, he / she should be able to login and access the content.

 

Access by Payment

 

Teaser / first few paras access is free. Registration and Payment is required for full access. 

 

If the reader is a subscriber, he / she should be able to login and access the content.

Depending on the subscription model and price of the article the account should be debited.
Features:
The above rules can be applied for archived content as well.
Irrespective of the source of hit (search results, direct URL, link from other sites etc.) the Pay Wall rules should apply.
Additionally, special benefits to subscribed readers can be extended, such as discount coupons, invites to events, competitions for example.
Paid access can be implemented in forms like:
Subscription - Set of exclusive sections can be made accessible only for subscribers and a teaser of the content can be presented for non-subscribed readers, prodding them to subscribe for further access. Subscription based revenue should be a reliable stream of revenue. 
Pay for view - Exclusive content (like exclusive hyper local town specific cricket match reports) can be made pay and see. Rules can be applied to:
certain number of articles during certain period
access for certain categories of articles
access for article by certain authors
various combinations of the above
Downloads/ Special Newsletters - Downloads could be items ranging from latest Tamil movie release trailer/ poster to Practice Question Papers for local university entrance exams.
Pay Wall Rule Engine - The Rule engine should be parameterized so that various combinations of rules can be built.
 
Check out this article by CAMPAIGN INDIA on Newspapers in India: Will subscription revenue overtake ad revenue?
 The Financial Times and Vikatan Group, a popular vernacular magazine group are some popular examples where pay wall has worked.
B. Advertisement Revenue
Today Advertisement also needs to be personalized and non-intrusive. Understanding the demographics and behaviour of the reader is important to reach out to the right audience.  
Based on the readership engagement strategies, the readership can be increased and further Advertisement revenue channels can be leveraged. Ability to identify and classify the reader should help better sell advertisements.
Traditional Online Advertisements are:
Contextual AdSense Ads
Pay-per-click Ads
Display ads
Ads from Central Ad Server
Other Online Advertisements methods could involve:
Personalized Ads where Readers subscribe for categories in which they want to receive ads
Targeted Ads which are based on the demographic and behavioural information collected.
Statistics on importance of Ads for Web
Check out this article by LIVE MINT on Ad spending seen growing at 15.5% in 2016, driven by digital
 
C. Services/ Classifieds
Localized listing of services and facilities (eg. Rentals, Job, Property, Matrimony, Home Services) for ready reference of readers should add value and posting for the same can be monetized (or) even if such listings access is free, targeted display ads on such sections can be solicited, which should be paid ads. 
Key Features needed to support online classifieds are
Classification of Ads
Ad Submission workflow integrated with payment
Tagging & Listing of Ads
Intuitive Search interface to help search Ads
Ads to be tied with key Actionable link  and Notification system
Check out this article by WORLD NEWS PUBLISHING FOCUS (WAN IFRA) on Classifieds: high-margin business with room for new players
D. E-Commerce
A store for the readers can be added. The products range can be built towards the targeted readers. Localized content for global audience like options to order gifts to be delivered locally can be added.  Special deals/ offers can be floated. 
Key Features needed to support online classifieds are
Inventory definition and management
Cart management
Order and Shipping Management
Invoicing
Payment Gateway Integration
One of the Indian examples is the India Times Online Shop.
Related discussions are available at Newspapers Pursue E-Commerce
The paradigm shift of publishing industry shows that creativity and out-of-box thinking is the way forward to build a stalwart brand and establish credibility among audience for digital publishing companies. Valuable offerings can increase subscriptions which can be a best revenue stream for digital publishers.
UniMity Solutions worked with wide range of digital publishers across globe bearing international, national and regional titles leveraging on rich availability of features in Drupal. We help our customers to migrate their publications from print to digital. We integrate features like content management, editorial features, video players, SEO, analytic management and many more to enhance the reading experience of their audience.