Choosing CMS platform is very crucial for organizations. Without broad understanding of requirements and impressive set of features to match the requirement choosing CMS could be daunting and tricky. Here is a comparison between Drupal Vs AEM (Adobe Experience Manager) and Sitecore.
First let's understand what Drupal is?
Drupal is the #1 platform for web content management among global enterprises, governments, higher education institutions, and NGOs. Flexible and highly scalable, Drupal publishes a single web site or shares content in multiple languages across many devices. Technology and business leaders transform content management into powerful digital solutions with Drupal … backed by one of the world's most innovative open source communities.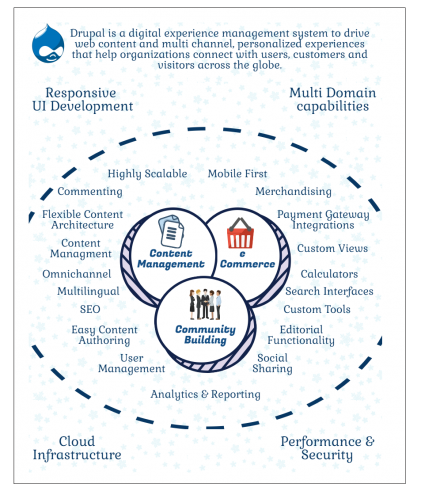 Key differentiator between Drupal and AEM or Sitecore are
Drupal is " A Web content management built by the Largest community of developers."
AEM or Site core are "WCM + Analytics + Personalization all in one. Proprietary & Licenses are needed".
While using Drupal we can actually select best of breed solutions to meet the analytics and marketing automation needs to deliver a complete Web experience instead of buying all the features in one single proprietary system.
Ease, Speed & Cost are key factors favourable to Drupal over other CMS platforms.
Setting record straight as Enterprise Web Content Management System and breaking all the myths Drupal holds 10 position in the CMS category in 2016 according to Datanyze Universe, a US based Technographics company. With accretion of Drupal 8, organizations acquired better ability to deliver right content to right people at right time on right device. Also, Drupal blends content with commerce to build contemporary e-commerce portals which enhance customer experiences through out buying cycle.
Some of the marquee Drupal implementations worldwide are listed below
Drupal Vs. AEM or Sitecore
Feature

Drupal

AEM or Sitecore

Differentiator

A Web content management built by the Largest community of developers.

Ease, Speed & Cost benefits are it's advantage. 

WCM + Analytics + Personalization all in one.

Proprietary & Licenses are needed. 

Flexibility

Drupal being more a platform is more flexible.

Being in open source, there is no need to wait for a Roadmap to implement any immediate need or flexibility.

Flexibility, built like a Lego, adapts to the needs.

It's Innovation friendly!

Being Proprietary, getting newer features may need to wait for them to implemented as part of the Road Map. 

Speed of Development

Faster implementations, easier prototyping

Needs more time

Responsive

Helps build customized user experiences, solutions that help in building responsive websites.

User experience and building responsive interfaces are available.

Integration capabilities

REST APIs in the core & Integratable

Integratable - relies on partners to integrate

Enterprise fit

 Meets all Enterprise criteria 

Meets all Enterprise criteria

 Security

Dedicated Security

Million eyes on the code

Process to communicate the issues in a more open and transparent manner

Security directed as by proprietary team

Scalability 

Highly scalable, integrates with memcache, varnish and other caching systems that speeds up the sites

Scalable 

Cloud capabilities

Integrates on the cloud, can be built to autoscale to optimize utilization

Support on cloud limited

Maintenance

Sign Up with any Drupal shop

Vendor agnostic approach is possible

Proprietary

 

End User training

Drupal 8 has usability as key feature

Easy to use

Cost

 Source code is free - pay more for value add

License costs are high
Apart from above mentioned features Drupal is chosen as CMS platform by most of the organizations because of it's innovative features with thousands of plugins offering customization. Drupal offers flexible and adaptable toolkit emphasizing efficiency and speed. Also one of the unique feature of Drupal is its transparency. Developers prioritize and mitigate security risks both in Core Drupal and Drupal Contribution Modules owing to deliver quality results.
Contemplating above information it is no wonder that Drupal is relatively replacing other CMS platforms like Sitecore, AEM and many more.
References: https://www.acquia.com/blog/why-are-mid-market-companies-still-looking-adobe-experience-manager/04/06/2015/3126566 https://amsterdam2014.drupal.org/session/how-market-drupal-vs-adobe-experience-manager-sitecore-or-ektron.html http://www.slideshare.net/AcquiaInc/setting-the-record-straight-drupal-as-an-enterprise-web-content-management-system